Experience A Hassle-Free Process And Dare To Create A Home You're Proud To Own
A Process Designed With

You In Mind
Remodeling can be an exciting experience, but it can also be quite stressful. When you choose to work with us, you'll enjoy an easy and efficient process that is tailored exactly to your needs. Don't worry — we're here to guide you through the whole journey. 
Artisan Remodeling & Design is ready to provide you with:



As a "one-stop-shop" contractor, we offer complete remodeling and design services for all your home improvement ideas. Once you share your needs and wishes with us, we'll get to know more about your taste and unique style, so we can provide you with the best options. As the process moves forward, we'll keep you in the loop and answer all your questions.
We're dedicated to completing all the hard work for you while giving you peace of mind knowing that everything is taken care of. All you have to do is relax and enjoy this journey knowing you'll be able to live in your perfect living space at the end of the road.
12 Steps Towards Your

Dream Home
Follow our easy steps and start to think about your favorite activities, while we do all the work.
Reach out by phone or fill out our form to give us an idea of what you want. Including pictures will help us better understand your vision.
We'll get back to you with a phone consultation to talk more about your vision and schedule an in-home consultation.
We'll come to your house and assess the space you want to remodel. We'll take measurements. discuss the budget, the timeline, and the materials we'll need to get your remodeling project started.
At this stage, we'll provide you with the contract and go over it together before you sign it. We'll make sure that it includes all the management aspects regarding final prices and your budget. It will also include the agreed work schedule and materials we'll use to complete your project. (Our retaining fee is 2% of the final price.)
Whether you need new tile, countertops, backsplash, hardware, or lighting, we've got everything you need. You can sit down and relax while we choose all the pieces individually to bring your vision to life.
We'll have a second meeting to customize your cabinets and create a 3D rendering of your new space. No matter how complex your vision is, feel free to test our imagination and skills in bringing all your ideas to life.
Before the actual work begins, we'll schedule a walkthrough to inform you about what you should expect over the next few weeks.
Here is where we bring in all the gear we need to transform your home. We'll secure the house and make sure the structure is safe before we start any demolition, construction, or remodeling work. It's our duty to seal and protect your home to keep dust, dirt, or debris to a minimum.
Our entire team is a part of this process. While we work our magic on your home, your project manager, Drew, will check on the quality of our daily progress. Paul will also do a couple of check-ups every week to ensure that everything runs smoothly. Sarah will keep you updated and informed about everything so you will never be left wondering what's going on.
Cleaning Done By Professionals
As we finish our work, we bring in our professional cleaning team. They will make your new place spotless and ready to amaze you.
Together, we'll have a final walkthrough to make sure everything is where it should be and looks exactly how you wanted. We'll also take some professional pictures for our portfolio and then you'll have your house back.
Get peace of mind with our 5-year labor warranty, as well as the manufacturer's warranties on the materials we used. If an unfortunate event should happen and it's included in our warranty policy and contract, we'll come back and solve it.
We want to make sure you'll be able to enjoy your newly remodeled home for as long as possible. That's why we have a follow-up call in the next 3 days, 3 weeks, and 3 months to make sure everything is right as it should be. Then we'll come to your place again at the beginning of the 11th month to check if everything is in good condition and do any necessary repairs if needed.
Kitchens Designed & Remodeled
Our Satisfaction

Guarantee
Happy Homeowners

Like You Say…
With every home remodeling project we work on, we listen carefully to our customers' wishes and needs. We dedicate ourselves to fulfilling your project wishes beyond your highest expectations. Here is what our happy clients think and what you can expect to experience when you choose to work with us as well.
Karon Long
They worked with our budget and created a beautiful and functional space. Their contractors are top-notch, all are trustworthy and exceptional in their field. We always felt like we were in very capable hands. I just can't say enough positive things about Artisan Remodeling & Design. I would definitely recommend them to anyone that is thinking about a remodel.
Natalie Wolley
Paul has basically remodeled our whole house! He did a wonderful job on our bathrooms so in 2016 we again hired him to help us with our main floor remodel. Once again, he impressed us with his work and we then hired him in 2017 to redo our kitchen. This was the biggest job by far and it went great and turned out so beautiful! We always felt like we were in very capable hands. I just can't say enough positive things about Artisan Remodeling & Design.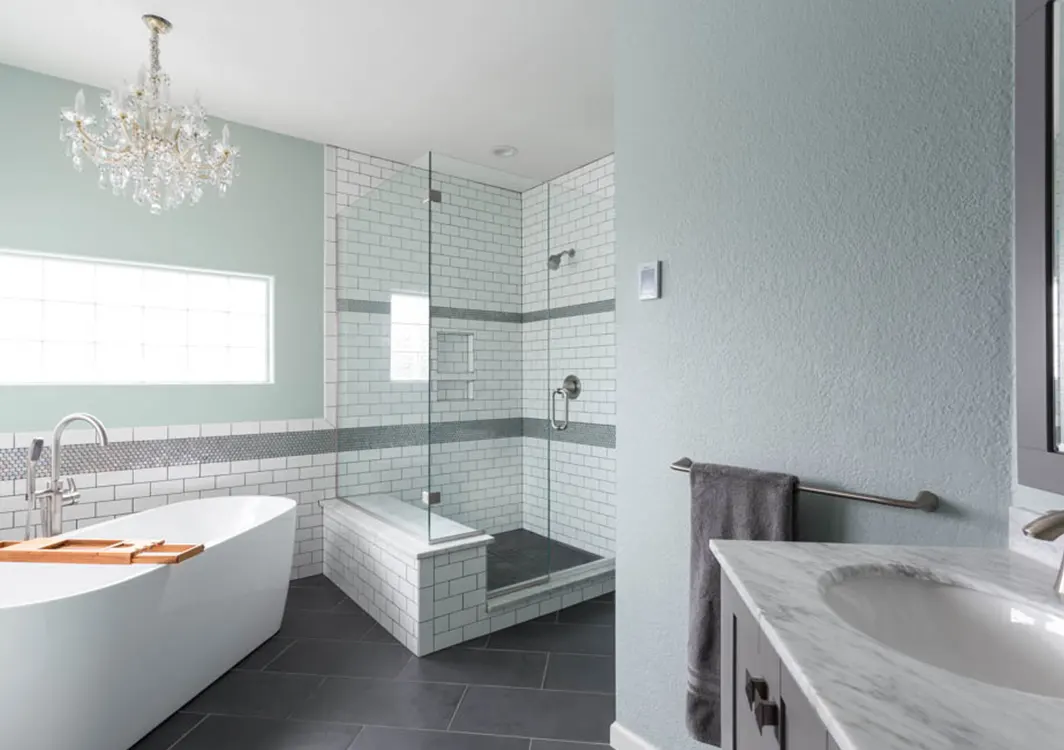 Joy Miller
Artisan Remodel & Repair remodeled our very dated master bathroom. We didn't move any walls, but everything else was changed in there. It is so beautiful now! We love it and feel the new bathroom really adds to the value of our home. Artisan was super easy to work with and did an excellent job! Artisan was on time and on budget, and communicated very well.
KITCHEN REMODELING
Beginning Your Kitchen Remodeling Journey in Fort Collins: Fort Collins, nestled against the picturesque backdrop of the Rocky Mountains, is
Read More »
BATHROOM REMODELING
The primary bath is no longer just a room with a basic shower and toilet. It has transformed into a
Read More »
Cabinetry
The number one reason why homeowners in Fort Collins decide to create a dream kitchen is that their existing kitchen
Read More »
Turn Your Fort Collins Home Remodeling Dreams Into

Beautiful Reality
A family-owned company helping Colorado families transform their house into a home they love, since 2011