Upgrade Your Kitchen And Be Inspired To Cook And Entertain Again
More Space For A

Highly-Functional Kitchen
For the modern family, the kitchen is the focal point of the home. It's where we cook, where we entertain, and where the kids do their homework. But if your time in the kitchen involves more pain than pleasure, then you need a kitchen remodel. That's where we come in! Let us transform your cramped and dated kitchen into the beautiful, functional heart of the home it's supposed to be. 
Your new custom kitchen will provide you with a lifetime of enjoyment and it will also increase the value of your home. In fact, the typical return on investment for a kitchen remodel is usually between 80-85%, and it can even reach 100%.
Your Own Social Hub Right At Home

Right At Home
Did you know that your kitchen sets the overall feel for your entire home? So if it's dated, the entire house feels dated. Yikes! 
Here at Artisan Remodeling & Design it's important to us that a kitchen looks amazing AND functions perfectly, which is why we'll do everything possible to make the best use of every little nook and cranny. Surprise your guests with a beautifully designed kitchen that suits your entertaining needs and reflects your (super impeccable) style. 
Let us help you get your home ready for all those get-togethers you've been avoiding. Let's transform your old kitchen into your private social hub – a perfect place to enjoy all the good vibes that your family and friends will share with you.
Renovations can be stressful and time-consuming, so we designed an easy and effortless process to give you the best home remodeling experience possible at every step of the journey.
We'll get back to you with a phone consultation to discuss all the details and learn everything we can about your home remodeling project. Then, we'll come to your home to see the space, take measurements, and start talking about desired colors, materials, and overall aesthetics.
(Have your inspiration photos ready!) 
Visit Our Design Showroom
Now you get to start making selections! This part is so much fun. Since you shared your inspiration photos with us during your in-home visit, we have a general idea of your design style, and we'll use this info to guide you towards the items we feel confident you'll love. During this meeting you'll choose your dream cabinets, countertops, backsplash, hardware, lighting, and flooring. With a showroom boasting one of the widest selections in town, you're sure to find exactly what you're looking for, and we'll be there to make the process easy and fun!
We begin with a cabinet customization meeting to make sure every Pyrex dish and Instant-Pot has a perfect home. Then, we create a 3D rendering of your new space reflecting your custom cabinets and all the materials you chose during the showroom visit. This lets you see your completed space before work begins, so you can make any changes you desire. Once renderings have been approved, we finalize the schedule, get your official start date in the calendar, and start ordering materials!

When your home remodeling project is done, we'll take care of the cleaning as well, and then we'll have a final walkthrough to make sure you're satisfied with the end result.
Before we leave, we'll talk about your 5-year labor warranty and schedule your 6-month and 1-year follow-up visits at this time. Then all you have to do is explore and bask in the awesomeness of your new space!
REINVENT YOUR SPACE TO CREATE A KITCHEN THAT'S

TRULY YOURS
Your kitchen is more than just a place where you get to cook – it's the heart of your home. It's where you're happily gathering everyone to share good news, serve delicious food, and chat about your day.
Think about the variety of options you can use to transform your awkward, cramped kitchen into an open space filled with natural light and fashionable style. Imagine it becoming the perfect place for your kids to do their homework surrounded by the smell of fresh cookies, and, of course, your love and advice.
Spend more time with your family in a kitchen that's designed for preparing tasty meals and for giving life to priceless memories as well.
Kitchen Remodeling

Prices
We know how important it is to have a functional and beautiful kitchen at home. Our professional team will work tirelessly to bring your dream kitchen to life as soon as possible, without sacrificing quality.
Basic Kitchen Remodel
Includes Includes level 1 quartz/granite countertops, plumbing fixtures, tile backsplash in a simple pattern, and new cabinets. Does not include changing the layout, floor plan, or the location of existing appliances.
Custom Kitchen Remodel
Includes changing the cabinetry layout and the location of the appliances, as well as refinishing existing wood floors. Also includes level 2 quartz/granite countertops, plumbing fixtures, tile backsplash, and custom cabinets. Based on 12x12' kitchen.
Luxury Kitchen Remodel
Includes extra design options, removing walls, installing new appliances, and new flooring. Also includes level 5+ quartz/quartzite/marble countertops, plumbing fixtures, tile backsplash, custom hood, and fully customized cabinets.
*Prices are averages and may change depending on the size of your kitchen, your choice of materials, features, finishes, and final touches. You'll receive an exact quote for your unique kitchen remodel after the in-house consultation.
Kitchen Remodeling

Portfolio
Over the years we've successfully renovated many homes in Fort Collins, Loveland, and across the rest of Northern Colorado, and we're proud to show off the results. Every single photo you'll see below is from our past projects. Take a look around to find inspiration for your own kitchen remodeling project! These photos are cropped to fit the gallery, so be sure to click on them to bring up a full-sized image!
Kitchens Designed & Remodeled
Our Satisfaction

Guarantee
Happy Homeowners

Like You Say…
With every home remodeling project we work on, we listen carefully to our customers' wishes and needs. We dedicate ourselves to fulfilling your project wishes beyond your highest expectations. Here is what our happy clients think and what you can expect to experience when you choose to work with us as well.
Karon Long
They worked with our budget and created a beautiful and functional space. Their contractors are top-notch, all are trustworthy and exceptional in their field. We always felt like we were in very capable hands. I just can't say enough positive things about Artisan Remodeling & Design. I would definitely recommend them to anyone that is thinking about a remodel.
Natalie Wolley
Paul has basically remodeled our whole house! He did a wonderful job on our bathrooms so in 2016 we again hired him to help us with our main floor remodel. Once again, he impressed us with his work and we then hired him in 2017 to redo our kitchen. This was the biggest job by far and it went great and turned out so beautiful! We always felt like we were in very capable hands. I just can't say enough positive things about Artisan Remodeling & Design.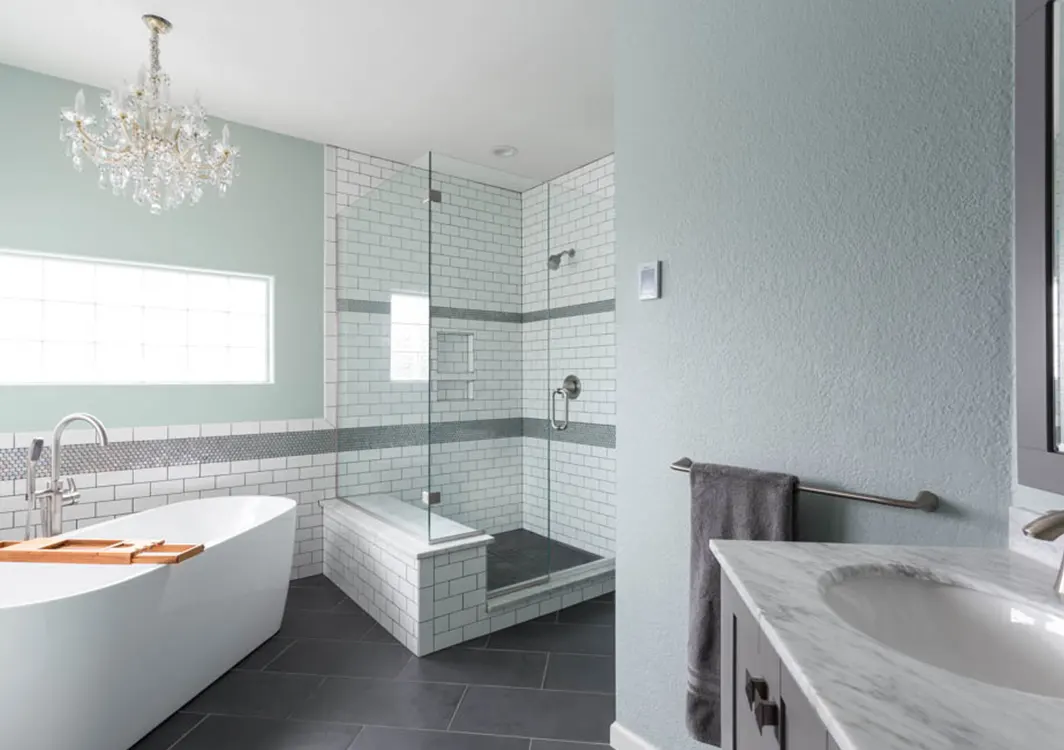 Joy Miller
Artisan Remodel & Repair remodeled our very dated master bathroom. We didn't move any walls, but everything else was changed in there. It is so beautiful now! We love it and feel the new bathroom really adds to the value of our home. Artisan was super easy to work with and did an excellent job! Artisan was on time and on budget, and communicated very well.
The holidays are a bustling time of year, often highlighting the functional needs and aesthetic aspirations we have for our
Read More »
When it comes to kitchen design, every detail counts. Every design choice contributes to the overall ambiance, from countertops to
Read More »
KITCHEN REMODELING
The realm of kitchen design is ever-evolving, and for homeowners seeking an upscale, contemporary look, stone slab backsplashes are swiftly
Read More »
Turn Your Fort Collins Home Remodeling Dreams Into

Beautiful Reality
A family-owned company helping Colorado families transform their house into a home they love, since 2011